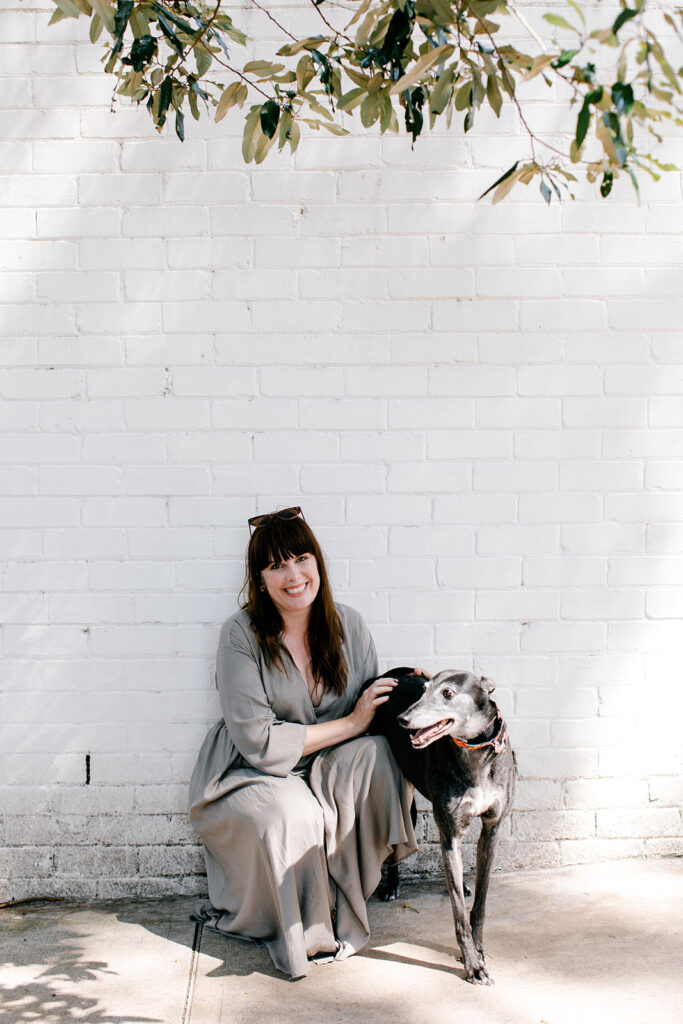 All about Victoria - the woman behind all we need is love
This might come as a surprise, but I'm a marriage celebrant.  If you're looking for a marriage celebrant – congrats!  It me!
My birthday is 04/02/1981.  My son's birthday is 04/02/2018.  I'm not usually one to get into the mystical side of numbers, but this excites me no end.
I was born and brought up in Auckland, New Zealand, and count myself lucky to have spent my formative years in such a beautiful country.  Aotearoa has my heart and always will.
I volunteer for Greyhound Rescue, have 2 rescued greyhounds of my own (shout out to Penny and Chez) and will swerve into oncoming traffic if I see a greyhound walking down the street so I can get a better look.  If you know, you know #cult
 I have 4 tattoos – an AA Milne version of piglet on my bottom from when I was 18 and then three recent additions on my forearms/back of my neck from when I recently turned 40.  Seems like milestones birthdays are some kind of identity defining moment for me (and I might be into the mystical side of numbers more than I thought…)
I was obsessed with The Beatles and The Monkees as a teenager.  It's why my business name and packages are named after Beatles songs (1000 points to you if you picked up on that) and why I will still get unreasonably fired up if anyone says The Monkees weren't actually musicians.  Michael Nesmith was a musical genius, prove me wrong.
I trained as a makeup artist when I first moved to Sydney and ended up working in cosmetics for over a decade before seeing the light and starting All We Need Is Love.  Running my own business, especially one as happiness-centric as celebrancy, has changed my life for the better and I am so incredibly thankful for it.
My favourite job (other than my current one) was working in a video store – in fact I worked in many of them!  Video Ezy in NZ, then Blockbuster in Sydney.  It was the best of times and I am devastated my son won't be able to experience the joy of getting paid to test out the new snacks, fiercely debate films for no reason and look up everyone's late fees for fun.  Devastated.
I'm married to a videographer – yes, it is absolutely worth hiring one for your wedding (budget allowing).
My nickname in my friend group is "Lady Victoria" because I used to wear really beautiful vintage dresses and heels when we'd go out partying and end up smashing a kebab on Oxford Street while standing over a bin, so I have a feeling it's fairly ironic.  These days I prefer to buy one pair of reef shoes a year and then wear them til the straps break. Chacos are the real MVP.
I used to collect all the weird/oddly shaped/faulty soft toys that I could find in the department stores because I felt sad that they wouldn't ever be loved.  They'd then have to sleep on my bed, usually with their own blankets.  Animal rescue makes a lot of sense now!
I don't marry a "type" – all my couples are really, really different from each other.  Introverts, extroverts, lawyers, archeologists, doctors, tradies, nurses, musicians; cisgendered, non-binary, gay, straight, trans, queer; highschool sweethearts, second-time rounders, whirl-wind lovers, 6 kids and 2 dogs in already; catholic, jewish, muslim, atheist, agnostic, lapsed and questioning.
 All We Need Is Love is inclusive, love focussed and a safe place for everyone.  It's literally the most important thing for me about what I do and if you don't feel welcome, I'm not doing it right.   That being said – I can't tolerate intolerance.  I'm sure you've worked out that I'm what my dad would call "a raging leftie", so if that's not your vibe, that's ok.  I'm not the girl for you but someone out there will be.
The way I view marriage, and in particular marriage ceremonies, has evolved as I've grown in my role as celebrant and also as half of a marriage.  I'm forever thinking of ways I can improve my ceremonies based on what I've learned about people, and myself, as the years roll on.  This job requires constant growth and creativity as society shifts and changes.  I thrive on this, people are fascinating.  Why we do things is fascinating.  Being married isn't always easy, but it is bloody fascinating! 
TL;DR – I'm an 80s baby with a love for NZ, animals, video stores and humanity.  If you like music, good times and being kind then we'll get along like beer and hot chips.